Relocating to another country can be an exciting adventure, but it also comes with a lot of planning and heavy lifting, especially when it comes to moving furniture. There are many dos and don'ts you need to know to avoid possible injuries and damages – but we got you covered. Take a look at our comprehensive guide and prepare to move your furnishing efficiently and safely.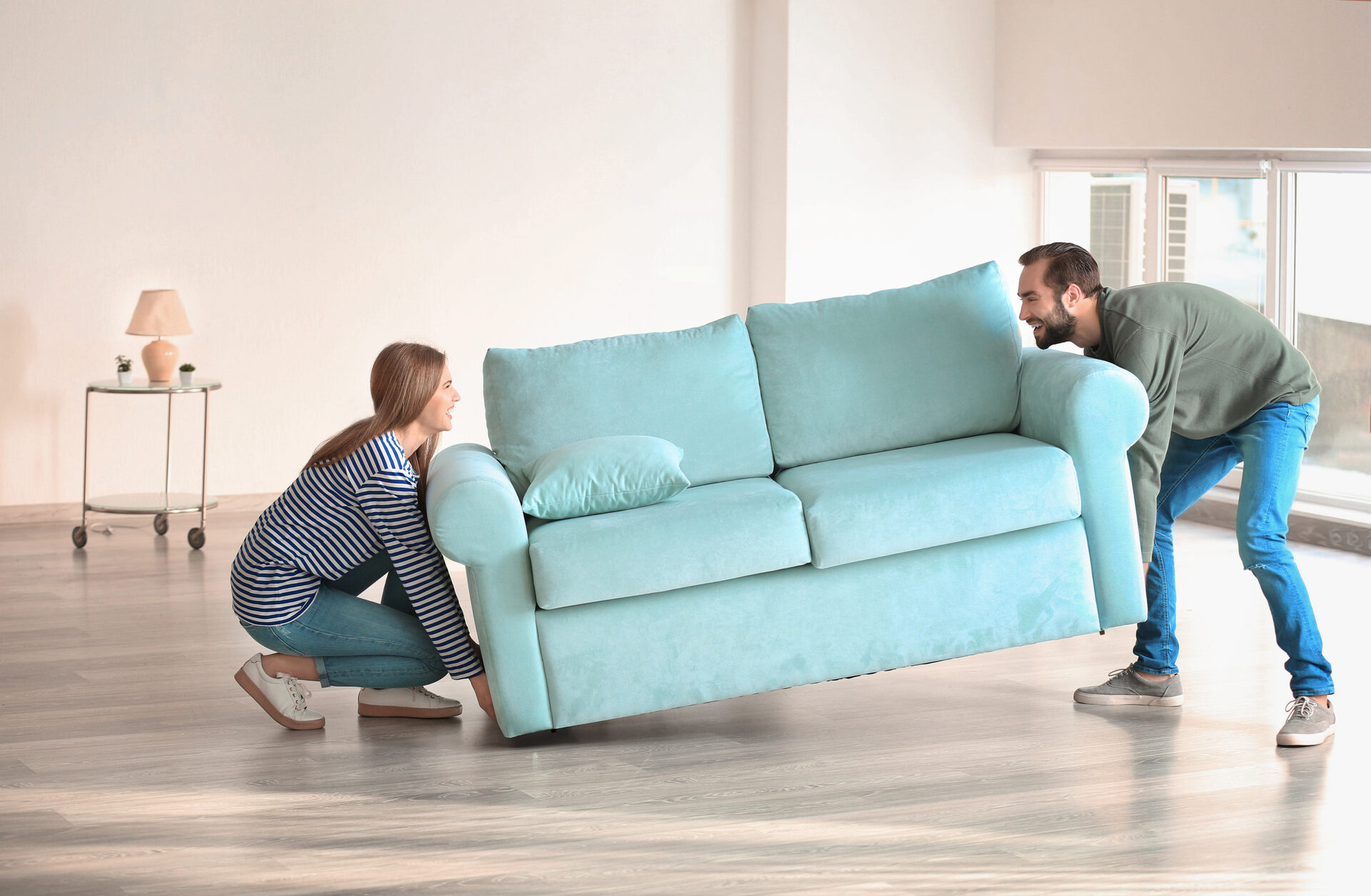 Decluttering Is Essential When Moving Internationally, so Make It Your First Step
One of the best ways to make your international move easier is to declutter your furniture before you leave. Determining what to keep and what to leave behind will not only lighten your load but can also save you money and effort in the long run – which is perfect if you're relocating on a low budget.
It's no secret that every item you transport will add to the cost of your move – and moving overseas is costly as it is. By decluttering before you leave, you'll reduce the number of heavy items being transported, which could potentially save you hundreds of dollars in transportation costs. Additionally, the fewer things you have to pack, the fewer packing materials you're going to need – and it will take less time to pack and unpack after the move.
When you plan to live abroad, determine which pieces are worth taking with you. If something isn't worth keeping or would cost too much to take with you, consider selling it, giving it away, or donating to the Salvation Army or some other charity. Additionally, keep in mind that some countries have restrictions on what types of items they allow into their borders. Therefore, when relocating to another country, be sure to check local laws.
Guaranteed prices for International Moving. No hidden fees or surprises!
GET A QUOTE
Gather All the Right Supplies on Time
Before you start packing furniture, be sure to gather all of the necessary supplies, such as relocation blankets and zip bags, for all miniature pieces, like screws and bolts. Additionally, consider getting bubble wrap or packing paper for smaller furnishing pieces. At the same time, know that for glass table tops, lamps, pottery, and other fragile items, bubble wrap works best. On the other hand, avoid utilizing plastic packing materials such as plastic wrap while relocating leather or wooden furnishings since they might harm the surface.
In addition to packing supplies, the right relocation equipment must also be on your relocating abroad checklist. That being said, note that dollies are an essential tool for moving furnishings of all sizes. They allow you to easily and safely move heavy items around your home or office without the risk of injury or damage. By using a dolly, you can avoid unnecessary stress and strain on your body that can result from lifting heavy objects.
Before Furniture Moving, Prepare It Appropriately
Before you start packing, there are a few important steps you should take to make sure your furniture arrives in its new home safe and sound. Note that disassembling large items can help protect them from damage. It's also helpful if you are facing tight hallways or stairwells, as smaller components will be much easier to maneuver around corners and other obstacles.
However, another important step is cleaning your pieces – even if you have a last-minute move. While some pieces may need nothing more than a simple dusting, others may require a deeper clean with polishes or cleaners designed for specific materials such as wood or leather. If you need some advice on how to clean your wooden furniture and not damage it in the process, take a look at the video below:
Wrap and Pack Each Piece Carefully
When you plan to move to a new city abroad, handling your heavy items doesn't have to add to the relocation stress. With the right tools and supplies, you can easily prepare all the furnishing pieces for shipping overseas and ensure that it arrives safely at their new destination. Here's a step-by-step guide on how to pack them appropriately:
Step one - Remove all drawers and doors.
Take out any drawers or doors from dressers and cabinets. Wrap each part individually with packing paper or bubble wrap before placing them in boxes or crates for extra protection. Label each box with a marker so that they don't get misplaced during the move.
Step two - Secure loose parts
Handles, knobs, and hinges need to be secured with masking tape or rubber bands, so they don't fall off during transport. Wrapping them in small bundles of bubble wrap will help keep them together as well as provide additional cushioning if they get bumped around along the way.
Step three - Protect the edges
These household goods are typically made up of delicate materials such as wood or metal that can easily scratch or dent if not handled properly. Be sure to cover any sharp edges with cardboard or padding before attempting to move them.
Step four - Wrap up large items
Start by covering each piece with relocation blankets until it's completely covered from top to bottom. Secure them with a rope or packing tape so that nothing shifts during transit. If the piece you're packing is made from leather or wood, ensure the packing tape doesn't come in contact with the surface.
When Moving Furniture Through Your Home, Have a Strategy Prepared
It's crucial to have a plan in place before you start maneuvering your furnishings. For example, if you're planning on doing any lifting yourself, it's important to use correct lifting techniques to avoid injury. Improper lifting can lead to muscle strains or worse, so make sure you know how to move safely. For example, when picking up an object, always lift with your legs rather than your back, and do not attempt to carry too much at once.
Additionally, make sure that all surfaces are clear of debris before attempting any lift – this will help prevent slips or falls while carrying an item across a room or up a flight of stairs. At the same time, make sure you always wear gloves when handling furnishings.
Don't Forget to Measure Hallways
Measure any hallways or stairwells that you'll need to navigate with your furnishings – don't let it be one of the things you forget to do. If the item doesn't fit through the door or down the stairs without being removed from its packaging or disassembled in some way, you'll want to know ahead of time. This will save you valuable time and energy by ensuring that everything fits properly before you even get started.
Clearing Obstacles Is Necessary for Avoiding Injuries
When it's time to move furniture in the house, clear any obstacles from the path between where your furnishing piece is currently located and its destination. Removing rugs, opening doors and windows, and taking out any objects that could be damaged during transit should all be a part of your relocation day preparations. You don't want anything slowing down the process or getting in the way when you need to move large items through narrow spaces. Additionally, don't make the relocation mistake of leaving stuff like toys and cords on the pathway.
Tips for Loading Furniture
The last thing you want is to break something while trying to get everything in the truck as efficiently as possible! Luckily, there are some easy relocation tips that you can follow to make sure that your furnishings make it into the truck safely and securely.
Planning ahead of time – you should have a good idea of how much space you need for all your items before you start loading anything. Additionally, take note of any fragile furniture pieces or items that require extra care when loading.
Loading order matters – when deciding which pieces of furniture to load first, always start with the largest and heaviest items. Start by placing large couches, dressers, and beds near the back door of the truck and then move on to smaller items like chairs and tables. If possible, try to stack lighter items on top of heavier ones so you can maximize your space without compromising safety or security.
Secure your load – once all furnishing pieces are loaded into the truck, be sure to secure it properly with straps or rope, so nothing shifts during transit to the port or airport.
Make Sure You Have Help With Moving Furniture
Relocation is usually a hectic experience, and it can be difficult to manage all the tasks that need to get done. One of the most time-consuming and physically demanding parts of your day, however, will be dealing with furnishings. They can be difficult to move, so it's important to have help when trying to maneuver them around.
Having friends help out on the relocation day is invaluable, so make asking them if they would be willing to lend a hand (or two) a part of your to-do list. Friends are typically more than happy to provide assistance, and this can save you a lot of time and energy. Just make sure that anyone who does come over has proper safety gear, such as gloves and closed-toe shoes.
When You Need Help With Moving Furniture Within Homes, Don't Hesitate to Contact an Overseas Moving Company
If your friends are unavailable on the relocation day, or you simply want to move your belongings in the safest way possible, getting international moving services is a good idea. Why should you hire movers to move furniture? The answer is simple – they have the right equipment and experience to get the job done right. A reliable overseas shipping company can provide the necessary assistance for relocating efficiently and safely.
Professional movers are specially trained in how to move large items like couches, beds, dressers, and desks without damaging them or your home in the process. They will also have the right tools and equipment needed for disassembling and assembling larger furnishing pieces before and after your move.
In addition to helping with the disassembly, relocation, and assembly of furnishing pieces, a reputable international moving company can also offer a variety of other services that make your move easier. You can consider getting services such as shipping a car overseas, for example, professional packing services. With their expertise and knowledge of how best to handle different types of moves, these professionals will make sure that your move across the world gets off on a good foot.
Moving Abroad Can Get Stressful – But the End Result Is More Than Worth It
Relocation internationally is a big decision – one that comes with a lot of paperwork, logistical planning, and, yes, even some stress. But at the end of it all, you'll be in a new country with endless possibilities. Let yourself focus on what's really important, such as adjusting to the new country and making memories in your new home. And if you're feeling overwhelmed by the task ahead of you, know that there are relocation experts who can help make your move as seamless as possible – so don't hesitate to contact them.